Ross FiberOptic LLC recommends Anritsu for some the finest fiber optic test equipment.
A short while ago Anritsu purchased Nettest and has combined the finest Anritsu electronics with the best OTDR optics and GUI from Nettest. The result is two exciting new OTDR products the MT9083 and the MT9090
MT9083 Access Master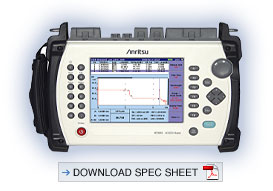 The MT9083 Access Master is a slick packaged 4.8lb OTDR All-in-One solution for Optical Fiber Construction and Maintenance of Access, FTTx, LAN, and Metro Networks.
Key Features
Quick Start ready to test in less than 15 seconds
8 hour typical battery life
0.8M Event Dead Zone
Macro-bend Detection
Features up to 45 dB, SM, Dynamic Range
Rugged with no fan or vent openings
Common OTDR Data Format
Shop 2 Popular MT9083 Kits:
1) Basic SM MT9083, 38/36.5dB 1310/1550nm : Kit# Z1254A
2) Basic QUAD MT9083, MM/SM 28/27/38/36.5dB 850/1300/1310/1550 Kit# Z1094A
MT9090 Network Master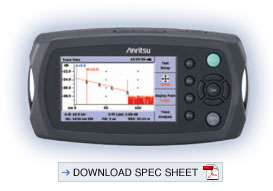 The MT9090 Network Master is an incredible new hand-held OTDR with a sexy shape that may have you reaching for game cartridges. This unit packs in all of the features and performance required for installation and maintenance of short fibers in a compact, modular test set
Key Features
Quick Start with less than 15 second boot up.
Unique purpose-built solution for short fibers
Up to 38 dB, SM, Dynamic range
Exclusive integrated 10M launch fiber
Complete FTTx tool with PM and VFL
Modular design with CDWM module available
Popular MT9090A Kit – Z1489A Deluxe MT9090A Kit, SM, 1310/1550nm, 37/36dB with VLD, and PM, SC/UPC
Ross FiberOptic offers a full Anritsu OTDR product line as well as hand held Power Meters (PM), Light Sources (LM) or Optical Loss Test Sets (OLTS)